< Back to Blog
we are family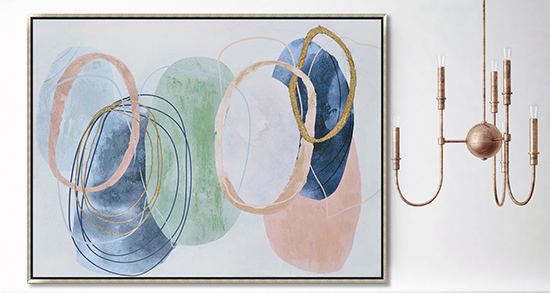 We are, indeed, family – and you know exactly how that feels! Every time you head to Market, you come with friends, colleagues ... and family ... to meet up with all your favorite sales reps for a twice-yearly housewarming in their living rooms. (They're showrooms, if you want to be technical ... but it sure feels like a visit to the homes of our most stylish friends. And they wine and dine you, too!)
Just like at the grandest of soirees, you also get to expand your network of fellow design-istas while oohing, aahing and taking notes about all the latest and greatest products you want to have make an appearance in your store or newest design projects.
That's why this whole IMC Market Family is the best thing to happen to your family and ours! The purchases you make, the notes you take, the plans you start to formulate don't have to all happen in a whirlwind of get-it-done-now-or-never. So, YES! – run your fingers over all the fabrics and fine wood finishes and through all the plush upholstery. Park your backside in the seat cushions and give the chairbacks the lean-into test. Steep yourself in the hues that tell the newest color stories. And get your orders underway.

now it's Market every day
Then, relax and calmly Market on! Because now, with junipermarket.com, there's no more second guessing if you ordered enough during your Market visit. Or wondering what to do if you're happily surprised by the number of new clients who bring projects your way before next year's Market. Or worrying about if you need something restocked, in-stock, or for staging NOW!!
Whether it's maximalism or mid-century that is selling through for you, Furniture of America and Zuo Modern are two of the companies that are at home wherever you are – sneaker-clad at High Point Market or comfortably scrolling through JuniperMarket. It wouldn't surprise anyone if these trend-right Sisseton Sofas from Furniture of America, with their dress up or pare down flex-styling, became your go-to seating element for 2023.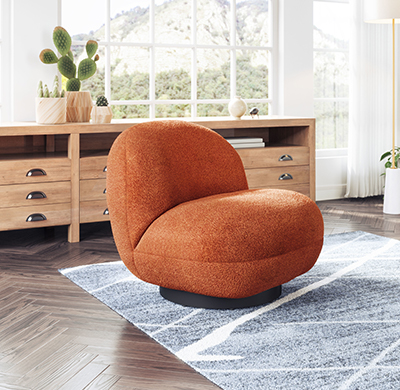 And if you're aiming for both modern streamlining and softly rounded luxury, the Mayanmar Accent Chair is a perfect example of how Zuo hits all the highlights for your designs and deadlines. With over 6500 furnishing products available on our site between these two brands alone, your ongoing Market experience can keep pace with the speed you want to do business, any time and every day.
walk this way. shop this way.
We all know how important it is to get what we put underfoot done right. Adding the perfect exclamation point with area rugs is one of the most valuable ways we help our customers go from merely serviceable to stylish and statement-making. And there's nothing like physically paging through all the designs and colorways of area rugs offered in their Market showrooms by brands like Feizy and Kalaty. (Our fave arm workout – how about you?!)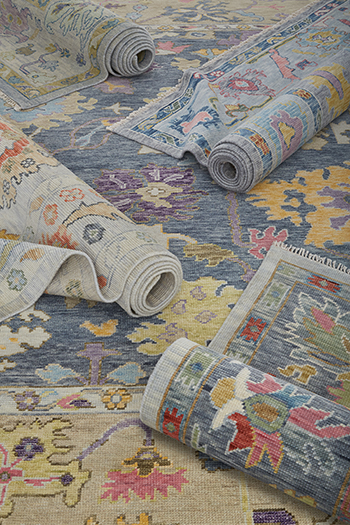 But no matter how forward-thinking our rug orders are, there always comes a time or project that needs something fresh, new, or perfect in another way. That's when JuniperMarket keeps you in the High Point market groove ... and happenin' ... exactly when you need it. It means there's always plenty of Market love to go around and enough area rugs to cover all the ground that needs to be covered.
get yourself lit
Lighting is another one of those areas of expertise where we give our clients and customers a boost into a higher aesthetic realm. We can see their mood and raise it – right to the level of light, shade, and lumens that achieves the desired ambience. A visit to the Koncept showroom in High Point provides us the in-person perspective that then allows us to bring fresh ideas to light all year – like the Sub Pendant fixture from their sleek, modern pendant series.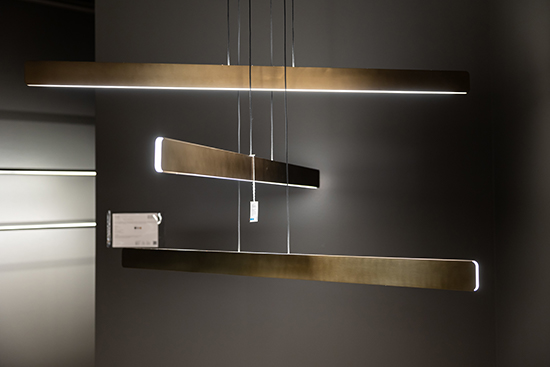 Pacific Coast Lighting is an example of a Market-to-Market brand that offers a more home décor viewpoint towards getting things lit. 😉 From table and floor lamps, like this Southern Heritage Table Lamp, to swags and lanterns, there won't be a room, space or object that can't be shown in its best light – even for last-minute staging that puts our in-stock filter into high gear.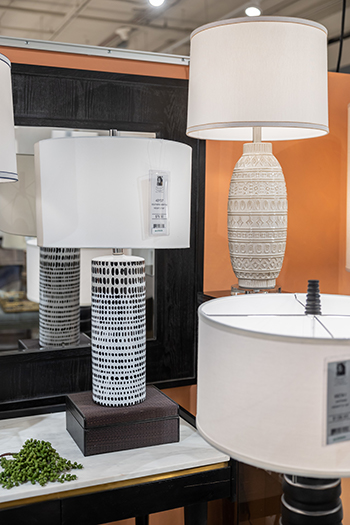 reflect on your aesthetics
And speaking of JuniperMarket features making life easy, be sure to use the build-a-board tool to put things together – before, during and after visiting Market. Create custom boards on your junipermarket.com account to give you a head start – and even some order – to your High Point planning. You can continue to curate your way through your Market explorations, taking notes as you discover products and brands that you want to feature in upcoming projects and on your sales floor
Perhaps you'll bookmark inspo wall art you discover at Streamline Art and Frame, or start a board of lush velvet or western motif soft goods like those you'll see in the HiEnd Accents displays. Or maybe you'll fall in love with a handful of fantastical prints from the Nicolette Mayer Collection that color your vision through the new year!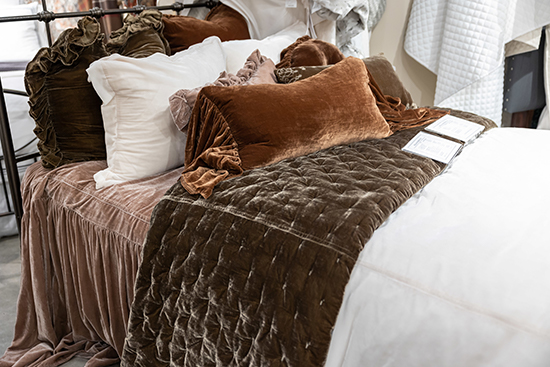 However you expand your Market scope and abilities, we hope you're as excited to hear how our Market family has grown as we are to share in all your family news – new stores, new clients, even new babies! All of your news is why we do what we do – to power your stories and empower your vision. And just like always, there's A LOT to see!
So, from our growing family to yours, welcome to the greatest design show on earth – now even better because it never ends. Because now, it's Market every day!
Published: 10.25.2022