< Back to Blog
living life without walls or seasons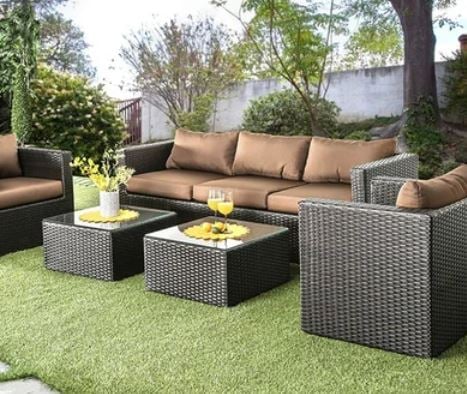 Living – and dining – al fresco turned the corner with the rest of the world in 2020. No longer do we wait for the traditional season or perfect setting to move and live outside. And since this lifestyle shift is really a balancing act of attitude and preparation, now's a great time to manage both sides of the equation. The end of summer may be around the corner but expanded living (and dining) rooms are here to stay!
To be honest, this is a lifestyle that has endured through the centuries, only to fade somewhat in the more recent eras of drawing room fastidiousness and full-on HVAC. So, grab all the feels from those design mag pics that have you yearning for the fresh fragrance of outdoor gatherings in the wine regions of Europe or the crisp, revitalizing ambience of cabins in the woods and waterside. Then use them to guide your search through JuniperMarket for all the latest ways to make that happen.
the yin and yang of sturdy yet cozy
Let's start by thinking furnishings. Durability plays a big factor when you're contemplating year-round use as opposed to seasonal, so be sure to evaluate the materials and construction along with design. Materials like teak, powder-coated steel, and even polyresin wicker are built to endure the elements more than most others – admittedly with the help of covers or closeting in case of precipitation.
rockin' in year-round comfort

You can opt for private-space coziness, like this cushioned Eucalyptus Rocking Chair from DTY Home or the classic egg style of Zuo's Bilbao Hanging Chair. Or stay warm together with snuggles on a Romantic Bistro Set by W Unlimited.
If your style is go big AND go home, seat the whole gang on this complete set of Olina Sofa and Chairs from Furniture of America. And always have a place to set your soul-warming glass of spirits with a side table like this modern cast concrete Bolero table from Union Home LLC.
the elements of control
Next on your list is climate management. We're not thinking macro here—just the micro backyard perspective. For many of us, that means providing a heat source. (Feel free to elbow the snickering Floridian sitting next to you as you read this...) It can be as conventional as a fire pit, but there are plenty of choices to suit both your décor and the space you're heating.
This super-chic Rectangular Fire Pit from Colsen Fire Pit is tabletop size, portable and burns Smart Fuel, adding easy ambience and warmth to whatever space you have available. Going in a more traditional direction, Napa East offers a unique selection of hand-worked steel, European-style firepits with a range of designs and conversation-piece quality. That's one way to break the ice and warm up some weekend cocktail conversation au plein air!
For those who love the smell of a wood fire but prefer one that speaks with a less rustic accent, the Conic Wood Burning Fire Pit from Danya B is calling your name. Its clean lines, faux stone look, and built-in wood storage is just about the most perfect marriage of form and function that you can hope for in a fire pit.
But if the raw, earthy outdoors is totally your vibe, and you're looking to go even further towards a novel mix of eclectic form and function, this may be the best answer to that cowpoke yen we've seen in quite a while. Turn up the heat for dinner in a way that warms your fancy and your feet at the same time with the Grill Pig (no sirree, no typo there) by Rustic Arrow. No one will ever want to put this baby in a corner, no matter the season!
more hot takes about outdoor living


Speaking of steaming things up, you can always take a cue from the Japandi aesthetic and add some hot water to the mix. This hybridization of Japanese and Scandinavian cultures, both of which feature hot water as a relaxing foil for chilly temperatures, leads to a cocooning, warm water zen – one proven by the ancients. Never let it be said we don't learn from the past, as hot tubs and Jacuzzis take their place at the forefront of outdoor living trends in the here and once again.
While we DO recommend signage, like that from Lonestar Art, to call attention to the splash zone, we might suggest another kind of moonlight dunking to effectively use Duke Cannon Supply Co's Midnight Swim Brick of Soap. 👀
set the scene – lights, more lights, and action
Once you've made the heavy choices, it's time to set the scene in the same way you would set the table. Earlier sunsets mean more need for lighting, and we all know (and love) that lighting brings the drama. It may be time to upgrade a home's exterior lighting fixtures, but more likely it's time to add some luminescent charm. While the first thought – for good reason – are string lights, like these from Hi-Line Gifts, there are unusual options, too. Bet you weren't expecting the glowing aura of your outdoor gathering to come from a Side Table adorned with fossilized cocoa leaves! Great thinking, Eangee Home Design!
And lanterns can bring the spotlight in any design direction you want, like this die-cut metal and hand-painted Solar Power Lantern from Evergreen Enterprises. Or try this Sand Castle Hurricane Lantern by Style Asia to add a vintage air to your gathering.
just another room ... with fewer walls
A really wonderful capability, thanks to the newest materials now available to manufacturers, is the gracious addition of interior-quality, eye-catching area rugs for outdoor use. It starts by providing an emphatic visual statement – which IS our arena, is it not? We're sure you can picture this Mosaic Rug from Momeni keeping the pace with every full moon and seasonal change.
More than that, even subtle area rugs like those in Kalaty's Modena line go a long way towards conveying a literal and figurative message that a home's outdoor environment is an integral extension of its indoor living space. The more it feels like established and expected living space, the more it will be used as exactly that.
As summer winds down, you don't have to abandon your outdoor accessorizing – even if your container garden is more about the container and less about the garden during your coolest months. Brimming with plants or not, the scene-setting impact is still there with pots and planters like Evergreen Enterprise's Painted Metal Planters or these hand-cast Ancient Cement Finish Planters by Art & Frame Direct Inc.
If you have the climate and protected corners that allow for it, you may still be able to grow your cooking herbs or even some hardy florals in wall gardens like these from Sullivans and Foreside Home and Garden.
the
portable comforts of home
Finally, don't forget that indoor/outdoor has an interactive connotation as well. In the same way you and your personal goods travel with you from your kitchen to dining area to living room and beyond, you can keep those things portable that you'll want to have outside with you – even if they don't stay outside all the time. This Rush Rectangle Basket from etuHOME can store your blankets, table linens or even games and books, so your activities can move with you as you freely embrace your resort-at-home approach to life.
So now, while you're still relaxing in the warm sun of a beginning-to-fade summer, use just a bit of time to eyeball your surroundings. How do you want this outdoor lifestyle to continue throughout the rest of the year now that you know it can? We don't all have to be campers to enjoy life in the great outdoors, and our own outdoor living room can have all the appeal and attributes of the best of glamping experience...with the added pleasure of being more permanent. And ours.
Published: 08.24.2022