< Back to Blog
we're everywhere you are - #atlmkt and online!
See them in Atlanta. Shop them online at JuniperMarket. Take your business discoveries to the places that will fill your shelves with best-sellers and craft your designs around unique products.
For the times you want to have a touchy-feely relationship with your prospective new inventory, Atlanta Market is here in all its sensory glory. Cushion your soles for the tactile exploration of everything from this season's velvet-covered sofas to the earthy texture of the rattan décor that's calling us back to nature, indoors and out.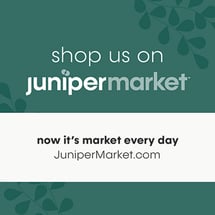 And as you're wandering down the trail to many treasures, be on the lookout for the JuniperMarket window signs that tell you there's more beyond the artfully designed walls and nooks of those showrooms ... there's more gold to be found in them thar hills.
The rest of that now-unburied treasury is waiting for you at JuniperMarket. Source from hundreds of the leading brands you're visiting in Atlanta that also keep a virtual showroom on JuniperMarket.com, ready for you to shop anytime you can't be here in the showroom. That includes newly launched products along with reorders of your customers' favorites.
Let the hunt continue – there's always more brand and product treasure to be found. And now you know where you can find it all, all the time.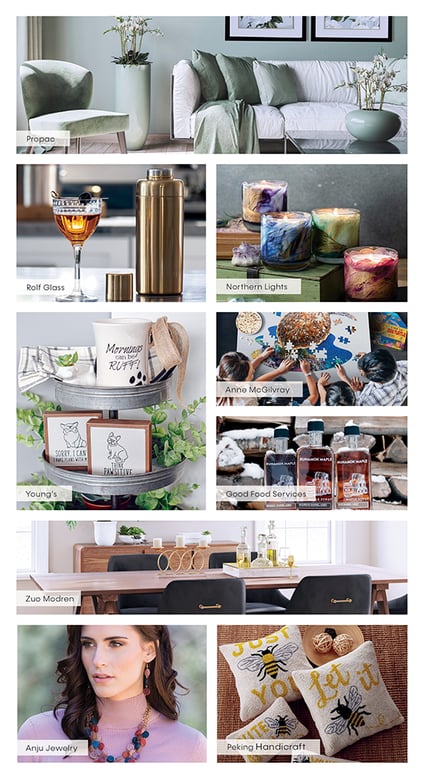 A & B Home Group
A Cheerful Candle
Adaste Home Inc.
Amity Imports
Anamese Garden Pots
Anju Jewelry
Anne McGilvray & Co.
Appelman/Schauben & Co.
Art Floral Trading
Art Studio Company
Bey-Berk International


Blueoco

Brownlow Publishing Co.

C & F Enterprises

Carter Mills Enterprises

Cathedral Art Metal Co.

Chandler Four Corners

Channel Craft & Distribution

Christmas by Krebs Corporation

Cloud9 Design

Cohasset Gifts & Garden
Contrast

Creative Gifts International

Darlene's Shells

David Christopher's Collection

Designs by Marble Crafters

Design Imports

Earthwood

Emdee International Enterprises

Flora Bunda

For Arts Sake USA
Georgetown Home & Garden

Gold Eagle USA

Good Food Services

Green Import Limited

Green Tree Products

Harold Import Co.

Hester & Cook Design Group

Home Bazaar

Huras Family USA

Ikoncepts New York

Imports Decor
The India Connection

India Handicrafts

Intrepid International Trading Co.

Ivystone Group

Jackson Pottery/ Domiziani America

Joy to the World Collectibles

Kalalou

Kane Home Products/ Design Imports

Karen Didion Originals

Kel-Toy

Kinzig Design Home

Koss Creative Brands
Lillywhite's

Lucas + McKearn

Mayrich Co.

MCCC Sportswear

Michaelian Home

Mills Gourmet

Mixture

MooMoo-Designs

Music of the Spheres

Napa Home

NMR Distribution (America)
Northern Lights

Northwest Orchids Nursery & Wholesale

Oh, Sugar!

Pacific Home & Garden

Park Hill Collections

Peking Handicraft

Pendulux

Prairie Dance

Pretty Persuasions Group

Primeware

Propac
Regency International Business Corp.

Reliant Ribbon Corp.

Rewined

Robinson Home Products

Rolf Glass

Round Top Collection

Safari Programs

Sagebrook Home

Sandy Ruben & Associates

Season's Designs International
Skyros

Steel Heart

Sugarboo Designs

Sullivan

Summer Place Reps

Supreme Marketing

Synergy Sales Associates

Tag

Teresa Lynn

Tim Philbin Accessories

Tip Top Accessory Shop

Transpac
Unicorn Studio

Werner Frank Enterprises

West Highland Group

West of the Wind

The Whitehurst Co.

Wholesale Home Decor

Wing Tai Trading (America) Co.

Winward International

Youngs

Zaer

ZUO Modern
New brands and products are being added to JuniperMarket every week. See what's new here.
We Really Mean Everywhere!
Be sure to stop by the JuniperMarket Experience in Building 3 Atrium so you can get interactive with JuniperMarket and some of our featured brands and products. As a bonus, check out these events along your sourcing journey during winter 2022 #AtlMkt: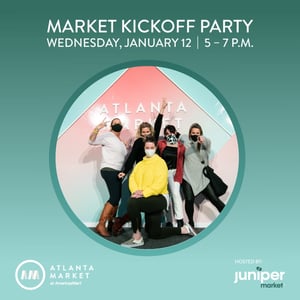 Market Kickoff Party | Wednesday, January 12
Join us for complimentary drinks and entertainment hosted by JuniperMarket as we kick off market and celebrate being back together amid our vibrant Gift & Home Temporaries.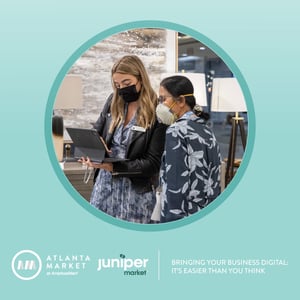 Seminar: Bringing Your Business Digital – It's Easier Than You Think | Thursday, January 13
Reflect the look and feel of your brand on every front – including digital. Change isn't easy, but the right tools CAN simplify your wholesale buying and ease you into your retail future. Hear from your peers about how they are using digital technology to refresh merchandise and more effectively support their retail and design businesses.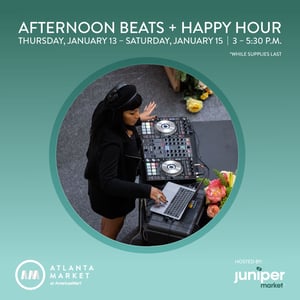 Daily Afternoon Beats + Happy Hour | Thursday, January 13 – Saturday, January 15
Relax, recharge and enjoy a drink and live entertainment each afternoon from Thursday – Saturday during Market. Don't miss out on happy hour, starting at 4 p.m.
Published: 12.27.2021